Today I had the honor to speak with the wonderful Simonetta Batteiger. She is an experienced tech leader and worked for companies like Sedo, Radius and Eyeo. She let me reveal my best leadership tips. See her questions and my answers.
What is essential for you to focus on in leadership?
Who better to ask this question than Ursula Vranken, a C-Level leadership coach I've found inspiring for a long time. Ursula has been working with leaders, teams and leadership development programs for decades and is truly passionate about this topic!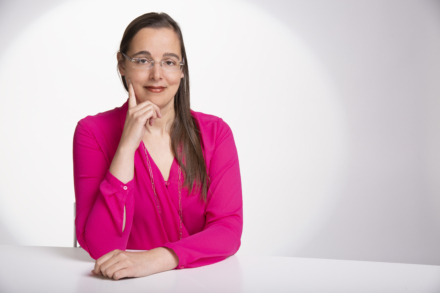 Simonetta Batteiger

Find out if leadership is your passion!
Being in leadership roles requires you to have a passion for working with people. Truly ask yourself if this is what you want. Ideally find a way to try it and see if you actually like it (or if you merely like the idea of it). In order to get good at leadership, you will have to put effort and practice towards it. You will do so with ease and joy if you're genuinely passionate about working with people. It's ok if you don't!
✔ Have a vision for yourself!
One of the first things I focus on with leaders in my coaching is to establish their leadership manifesto. What kind of leader do you want to be? What is guiding you? What is your vision for yourself? And what are your values? Knowing the answers to these questions allows my clients to have a strategy for themselves. It enables deciding on their next steps and guides their choices. It also allows them to focus on identifying, learning and practicing those skills that get them closer to their desired life and career.
✔ Experiment with pairing in leadership!
I see a lot of value in organizations pairing leaders with complementary skill sets in dual leadership setups. For example one person with a more technical background and one person with more of a people management background. Teams benefit from more diverse perspectives, skills and experience levels. Leadership becomes less stressful and more effective as a result of having a built in sparring partner.
✔ Stay at choice and know your strengths and skills
It's important to maintain a sense of independence in your choices. Never think of an organization, a current role, or a relationship as your only option in life. Ask yourself what you truly want, then go about life with an eye for keeping yourself at choice for this life. When my mindset is "I am creating the life and career I want", it enables me to choose my next step in that direction. This is not about pleasing others, it's about being in service of a vision – both for myself and my team and organization. All of this rests on a foundation of self-reflection and an intentional development of my own strengths and skills. Ask yourself: Is being in a leadership role compatible with my vision, goals, strengths, skills and passions?
Let us know which leadership tips do you have? Have a chat with us on LinkedIN.

---
More to read:
https://digitalpeoplemanagement.de/wp-content/uploads/2023/05/Leadership-Passion-e1684242788695.png
573
1161
Ursula Vranken
https://digitalpeoplemanagement.de/wp-content/uploads/2014/12/ipa.png
Ursula Vranken
2023-05-24 08:00:34
2023-05-24 08:00:24
Find out if leadership is your passion